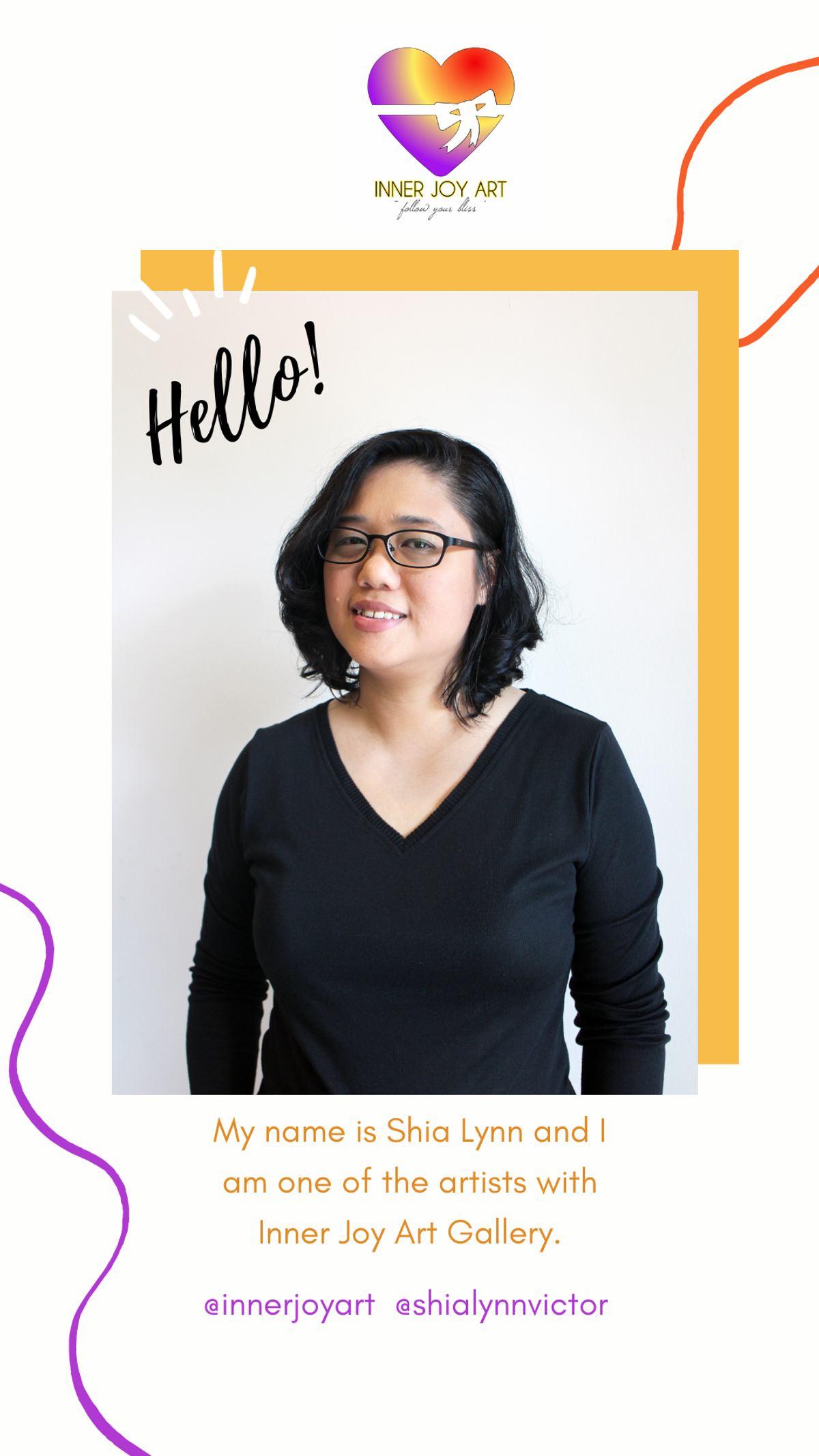 Shia Lynn Victor is an intuitive fine art artist who is also known as a passionate Creative Advocate. She has been active in the local art and craft scene since 2008 when she setup The Artsy Craftsy. Shia Lynn's years of experience and resilience have inspired numerous creative individuals through her sharings and mentoring.
With her vast experience in the creative industry, it is interesting to see how that has contributed to Shia Lynn's fine art practices too!
At the end of this article, Shia Lynn will share a video of her art journal pages walk-through as a sneak peek to her creative process. Let's get to know Shia Lynn more in this exclusive quick interview! 😍
1. When did your love for art start?
My love for art started as a child. I can't remember the exact age, but as far as I know (or was told at least), I was a natural as a toddler.
2. When did you start painting?
I started learning how to paint in my teens when I attended art classes at an art centre taught by Calvin Chua, an experienced Malaysian fine artist. After that, it was self-taught throughout my entire creative journey.
3. What was the first medium that you started with?
As a child, probably just colour pencils and pens on paper. Later on as a teen I started exploring with watercolour and poster colour. It was only when I was in college, that I started using fabric paints for fabric painting. When I moved on to decorative crafts, I started using more acrylic paints and other mediums.
4. What is your favourite medium to work with now?
I do mixed media, so I work with different mediums. But, generally it's acrylic for my art pieces and most of the time it's watercolour for art journaling and mark making because it is convenient.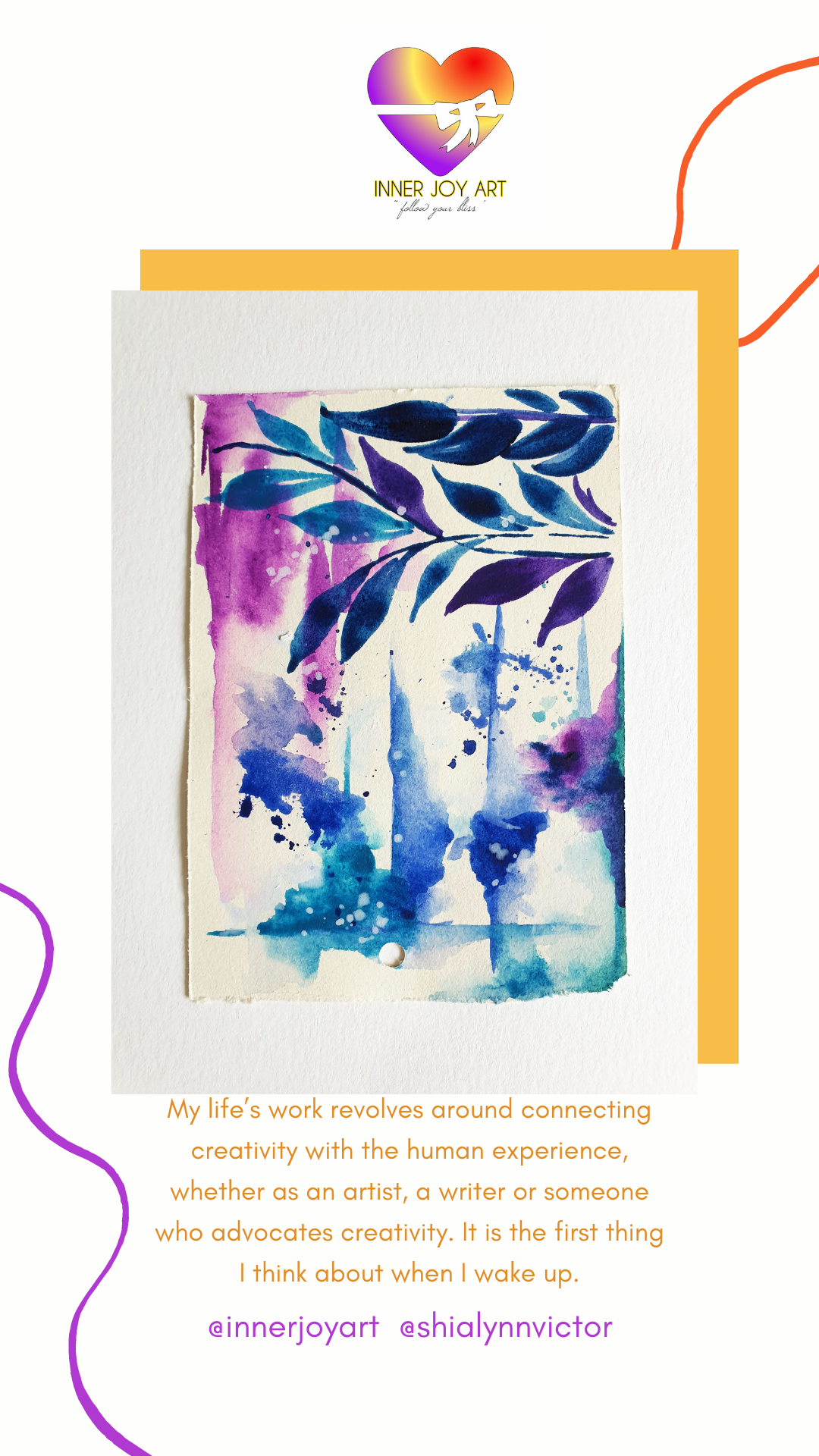 5. Are you a full-time artist?
I would say, I am more of a passionate Creative. I subscribe to the idea of Do What You Love, and I truly enjoy incorporating creativity as part of my daily life. My life's work revolves around connecting creativity with the human experience, whether as an artist, a writer or someone who advocates creativity. It is the first thing I think about when I wake up.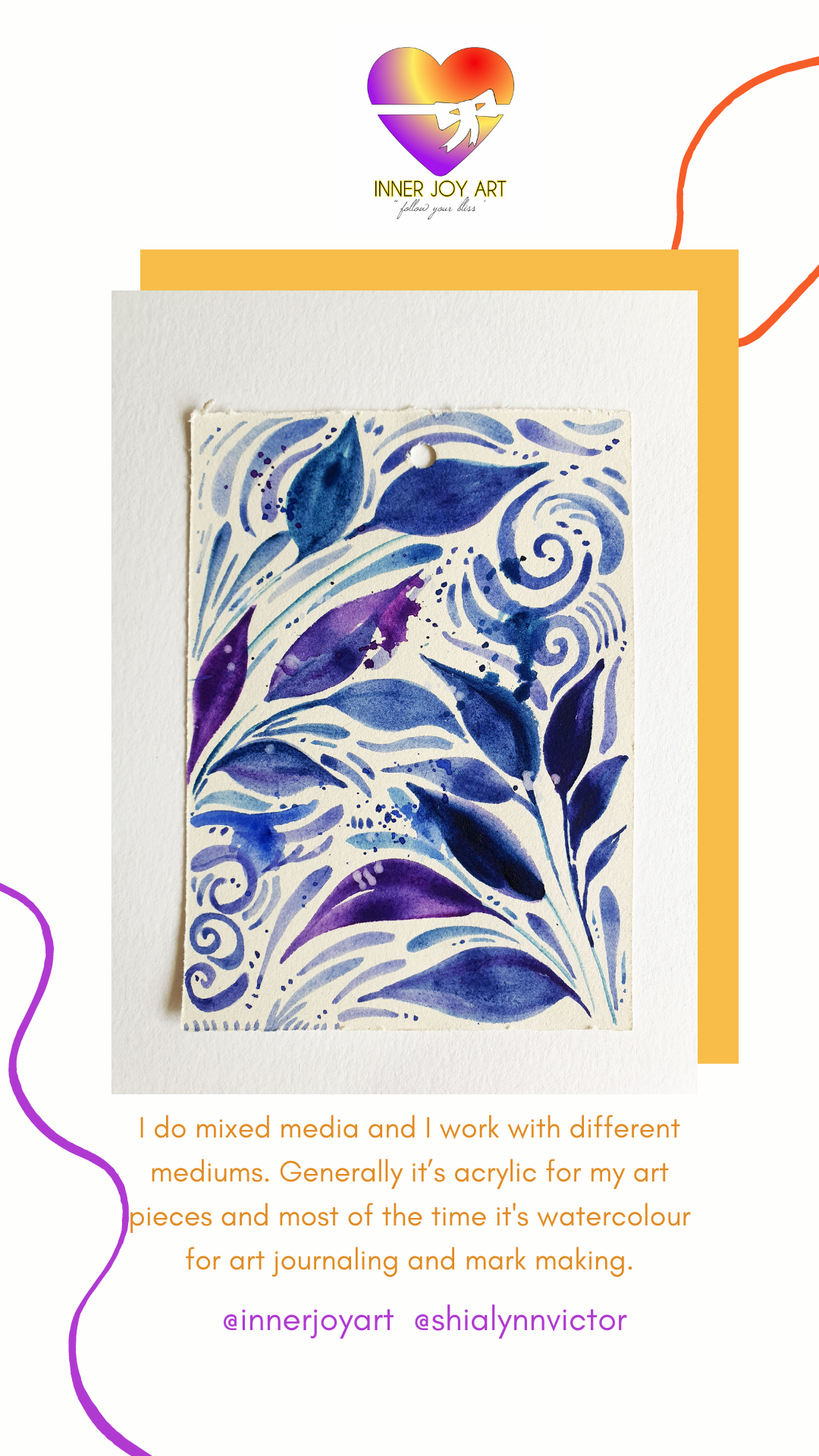 6. Why do you paint / make art?
I paint because I naturally enjoy the process of expressing myself through colours and imagery. To me, making art is more than just play, it is a healing process for me. It is also a way for me to channel my visualisations. My intuitive art is a creative reflection of my emotions, consciousness and thought process.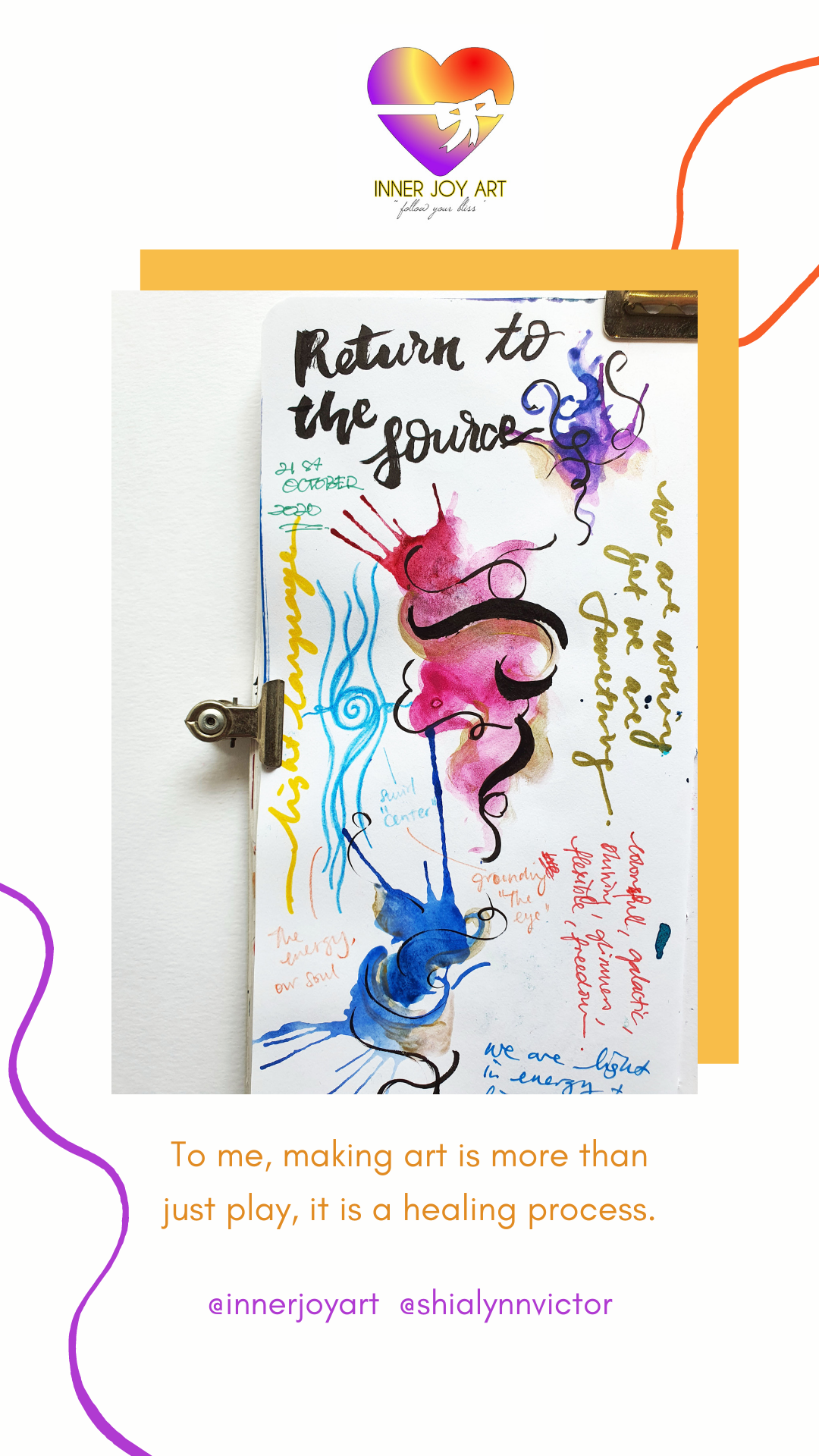 7. Besides being an artist, what other roles/jobs/tasks do you do on a daily basis?
Apart from being an intuitive artist, I help people be creative by churning out content on The Artsy Craftsy, a creative platform that I created in 2008 (formerly a blog). I try my best to empower creativity through content, community and activities.
8. What are your inspirations when you paint / create art?
I draw inspiration from different elements & interests such as magic, spirituality, fantasy, psychology, etc. But most of the time, my inspirations or ideas for making art come from within me or when I tap into my inner-self.
9. Has the covid-19 impacted you? If yes, in what way?
In a way yes it did, as a matter of fact I think it has also impacted everyone. But covid has also triggered an awakening in me, and in a lot of us too I am sure. Whether we notice it or not, our lives before covid were sort of "tunnel vision" like. I was doing what I love, no doubt. Somewhere along the way, intuitively I felt something was missing- like a big shift needed to happen.
So when Covid happened, it was definitely a wake up call. We weren't prepared for a crisis, definitely not a global pandemic that's for sure. My offline income was definitely affected, but Covid-19 and the lockdown taught me how to pay attention to what's more important like loving, living and learning the knowledge of Truth which is far greater than what we all know, and to focus on healing like mental health.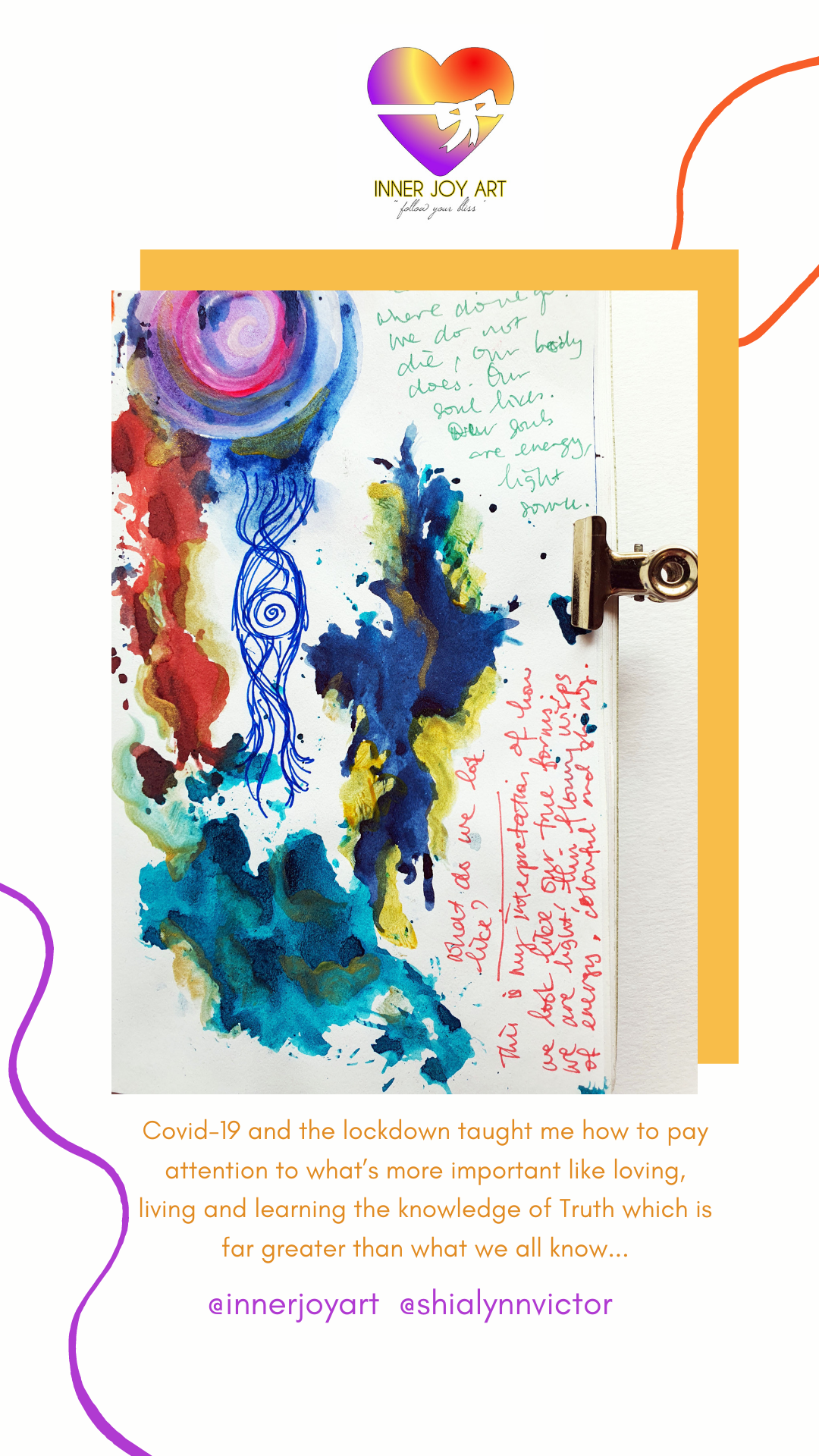 10. Was your personal income as an artist affected by the covid-19 pandemic?
Yes it did, because most of the corporate activities that I conduct are offline and most of the handmade events that I co-organised are offline too. Plans have definitely been put on hold during the pandemic. But it also encouraged me to shift my focus to connecting with my community online.
11. What are 5 main life lessons that you gained from the year 2020 up until now?
💜 I learned how to surrender to the idea of healing and trusting the process.
💜 I learned how to talk about my mental health journey openly because mental health is just as important as physical health.
💜 I learned to reconnect with my creative roots; focus on the process not because of social media expectations.
💜 I learned to breathe correctly.
💜 I learned about humility. There's always something bigger than us out there and it makes us all equal.
12. What is your hope for 2021 and beyond?
Hope that we heal from this, and hope that whatever that we have experienced or learned in 2020, will pave the way for 2021 for humanity to be more receptive towards important things like living, mental health, creativity, mindfulness, etc.
13. What is your message to a person who is just about to start their journey as an artist?
Pick an artist that you admire, more importantly based on their work that you resonate with most. This is not for you to compete or to copy, but to use it as an inspiration and to remind yourself that you are not alone in what you do and how you make your art. Don't ever compete with the artists that you admire, especially the famous ones, but look towards them as a source of motivation to explore and find your style. Remember: Your style is your DNA.
14. When someone buys your artworks, what can that person expect from your future growth in art?
I am working on life integration. I am learning how to heighten my intuitive abilities through neural connections so that I am able to grow in all aspects, artistically and more. As a creative advocate, I am furthering myself on how to help people, especially budding artists and crafters, to gain creative clarity.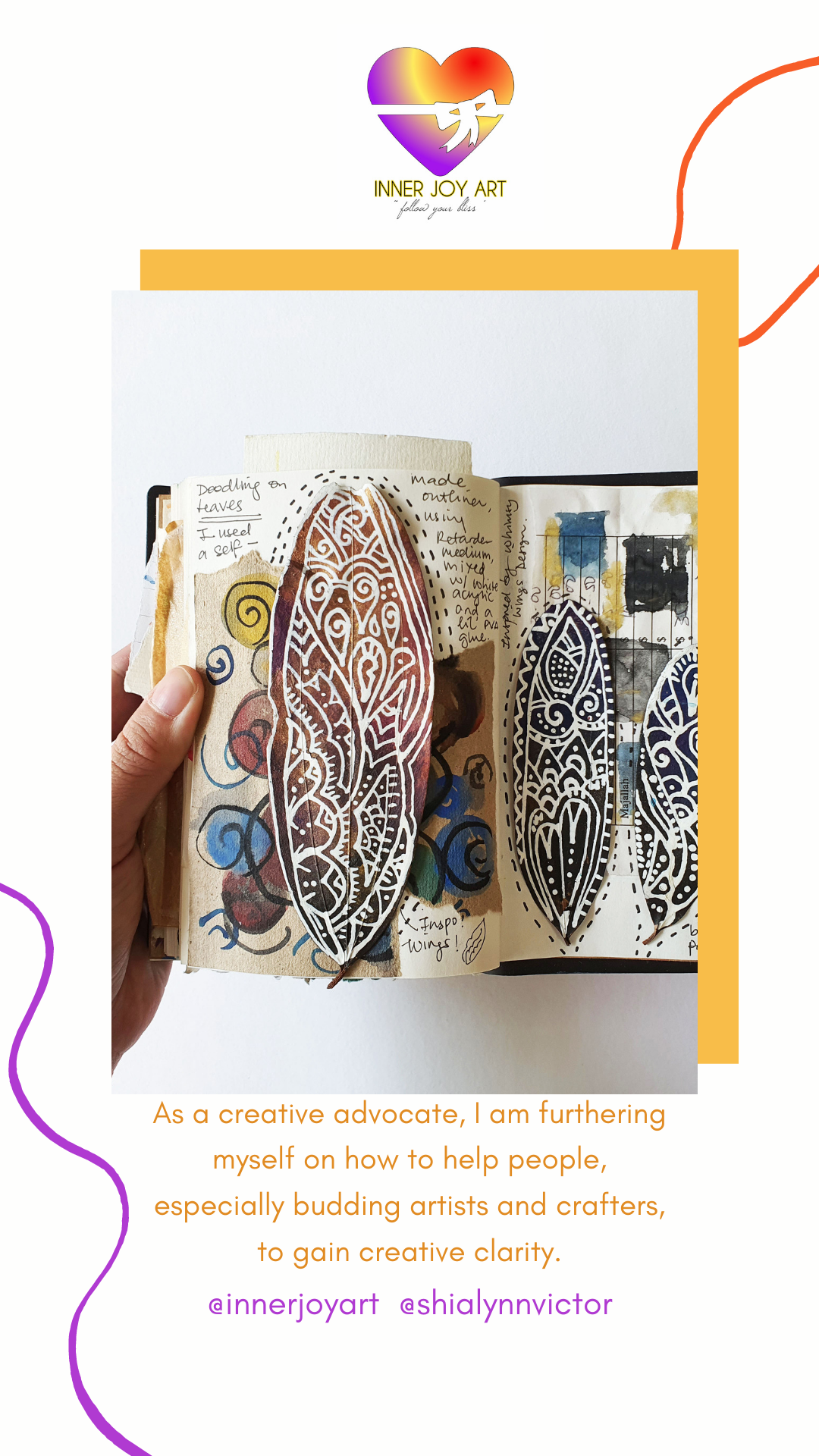 15. Anything else that you would like to add?
I hope you like my intuitive art. =) I welcome interpretations and thoughts as I enjoy finding out what viewers think and feel when they observe an artwork.
Before we conclude this interview, here's a video flip through of one of Shia Lynn's art journal to share with all:
We hope all of you enjoyed this interview. To view Shia Lynn's official artist bio and artworks collection, Click HERE.