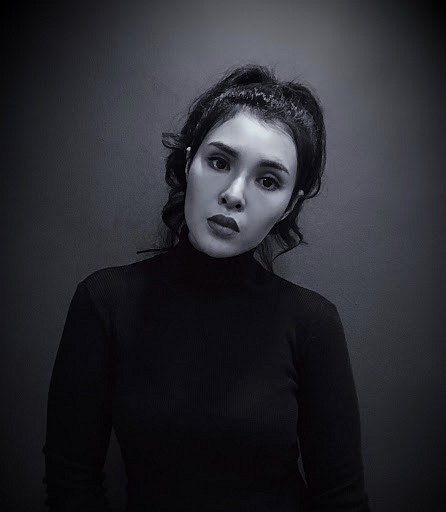 Norfarizan Ahmad, or Ejan Ahmad to most of her friends, was born in 1982 in Ipoh, Perak, and currently based in Kuala Lumpur. Ejan is a self-taught artist working in one of the airline industry in Malaysia. She's considered the 'creative one' in the family, but wasn't able to pursue her passion in art after finishing school. After a long hiatus from art, she decided to rediscover her passion again back in 2017, and has continued to paint ever since.
As a self-taught artist Ejan feels that she can bring a certain attitude into her artwork. She is currently focused on mainly abstract art and minimalist art. Most of her artwork is based on nature and her surroundings. It is usually anything she can see and feel that comes from her own experiences.
She also feels painting is one of her platforms of self discovery. She still continues to explore other types of mediums in her artistic journey. She loves to experiment with mixed media.
The main medium that she loves to work with is acrylic but she also loves using modelling paste, alcohol ink and oil pastel.
Her inspirations comes through on what she feels and senses in natural surroundings. For her, the greatest satisfaction in her art is to let people have their own interpretation.
"I love creating art because I believe art is one of the ways I'm able to communicate my feelings to the world, which I cannot express in words. I don't really like explaining myself, so maybe people can understand me through my art." - Ejan Ahmad
Past Exhibitions / Art Events / Art Awards
2021
"DUALITY", Zhan Art Space
"Un(Wrap)", Creative Hub Art, Malaysia (Open Art Exhibition - Online)
"Locals Only!", Taksu (Online)
"2020 - 2021 : What's Your Story?", Inner Joy Art Gallery (Online)
"Duduk Rumah Art Challenge", Selangor Creative Art Movement (Online)
2020
"Duality", University of Malaya Art Gallery
"Be Kind. Have Courage ; Mental Health Awareness", Inner Joy Art Gallery
2019
"Colours of Malaysia : Harmony & Unity", Inner Joy Art Gallery
"Hope 2020", Four Seasons Place KL
Mini exhibition at Malaysian Investment Development Authority (MIDA), Art Market Malaysia
"Vermilion", Opposites Abstract, LockerRoom DC Mall
Art Market Malaysia Group Exhibition, Four Seasons Place KL
"Unicorn Magic", Opposites Abstract, LockerRoom DC Mall
"Non Finito", Opposites Abstract, University of Malaya Art Gallery