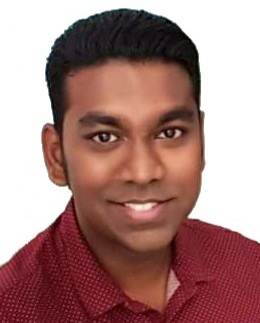 Born in 1988, Eugene Nandakumar hails from Kuala Lumpur. At 35 years old, he attained his secondary education at La Salle Sentul Secondary School. Progressing his academic journey, he enrolled at the esteemed Malaysian Institute of Art (MIA) in 2006, where he majored in Fine Art. Notably, he clinched the title of Best Student in 2008. His quest for knowledge continued, culminating in a Master of Education major in School Leadership from Open University Malaysia (OUM).
Since 2009, Eugene has wholeheartedly embraced the role of a full-time Art teacher at a private high school. Recently, his professional path led him to Campus Rangers International School Kuala Lumpur, where he serves as the Head of the Art & Design Department and has taken on the role of Deputy Principal. His influence extends beyond administration, as he lends his creative prowess to school activities. Notably, he was honored as the National Outstanding Educator by the Private Education Cooperative of Malaysia.
Eugene's creative brilliance extends beyond the academic realm. He has earned recognition as an award-winning artist, skilfully integrating his extraordinary talents into the classroom. Through innovative employment of art therapy, he effectively engages and nurtures students' social and emotional well-being. His contributions to the school community are manifold, particularly through the development of Art & Design as a means of communication and intervention. To date, Eugene has showcased his work in over 20 group exhibitions, reaping more than 10 awards for his artistic achievements.
"When I look deeply into my heart, I see my art." - Eugene Nandakumar
Past Exhibitions / Art Events / Art Awards:
Art Awards:
Best Student Award, Fine Art Department 2008, Malaysian Institute of Art (MIA)
1st Runner Up-Nando's Perify Your Art Competition ('08)
1st Runner Up- All New Toyota Vios, Blank Canvas Competition ('07)
1st Runner Up- FRIM Warisan Negara Art Competition ('14)
Top Voted Artwork: Energy-Present & Future, Petronas Art Competition ('15)
Top 22 Finalist, Visual Art Pitch 2018
Honorable Mention Award-2020 International Art Prize for the Original Artwork, STARVD ART Studio ('20)
Grand Prize (Establish artist category)-Dreamscape Art Contest 2021.
1st Runner Up- MyTown Colours of Togetherness 2021.
Top 5 Finalists – Pulse Award 2D painting Category 2021.
Top 30 Finalist- Penang Open Art Competition 2021
Top 30 Eminent Artist-VAS International Artist Group, India 2022
Top Voted Artwork- Art Against Aid 2022
Top 10 Finalist- Penang Open Art Competition 2022
Spotlight Award- Mr.DIY Art Competition 2023
Exhibitions:
Canvas- Evolution of Malaysian Art, KDU ('08)
Nando's Perify Your Art, The Exhibition, NN Gallery ('08)
Fine Art Diploma Show, MIA Gallery ('08)
Kecik-Kecik Annual Art Show, Annex Gallery ('08)
Pameran Pensel Warna Malaysia,Galeri Shah Alam ('13)
Pameran Pensel Warna Malaysia,Galeri Warisan Budaya,KL Tower ('14)
Energy-Present & Future, Galeri Petronas ('15)
Visual Art Pitch 2018, KEN Gallery ('18)
The 100 Art Exhibition 2019, China House Penang ('19)
Pensel 2019 Balai Seni Maybank ('19)
Luminosity, Artscape Ver.1.3, Commune Sunway Velocity KL ('19)
Duality Group Art Exhibition, Galeri Seni University Malaya ('20)
Un (Wrap) Open Art Exhibition, Creative Art Hub, Sunway Putra Mall ('21)
Dreamscape, Online Art Exhibition (21')
Virtue(al), Online Art Exhibition (21')
Art Aid Artist, Phase 2 (21')
Pulse Award 2021 The Exhibition, Phloen Chit, Thailand (21')
Light & Dark, Balai Seni Maybank (22')
1st National Online Art Exhibition, VAS International Artist Group, India (22')
Penang Open Art Exhibition, Penang State Art Gallery, Penang (21')
Fable: A Hero's Journey, Inner Joy Art Gallery (22')
Art Against Aids 2022, Segaris Art Centre, Publika KL (22')
Penang Open Art Exhibition, Penang State Art Gallery, Penang (23')
For the Love of Art, KL City Art Gallery (23')
Mr.DIY Art Exhibition, Segaris Art Centre,Publika KL (23')